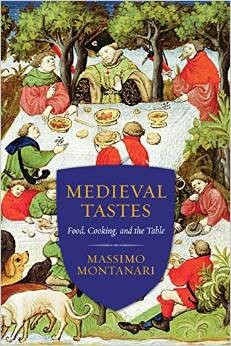 Hot tomatoes and potatoes! Do you have any idea how Europeans managed a decent existence before they discovered American takeaway?

Reading Massimo Montanari's Medieval Tastes: Art and Traditions of the Table

(Translated by Beth Archer Brombert. New York: Columbia University Press, 2015. ISBN 978-0-231-16786-4) for netgalley taught me so much more about the development of Western Civilization than mere table talk. It's no surprise that our lives revolve around eating, but surprising how eating revolves around every stage of human progress (and the occasional regress.)
Medieval Tastes: Food, Cooking, and the Table
by
Massimo Montanari
My rating:
4 of 5 stars
Anyone who enjoys History and eating a great meal as much as I do will discover a feast in this book. It is a venture into today's trend "To authenticate the present by recalling the past, to legitimize what we are making now by saying that it used to be made long ago," with an application of a mass of pertinent research that dates back to Roman times.
Not exactly a gripping tale, it requires some fortitude to persevere through every aspect of Medieval food cultivation, preparation, cultural, status and sociological significance. I've probably overlooked something; I don't think that Montanari has. Despite that my concentration wandered occasionally, Medieval Tastes: Art and Traditions of the Table really is quite fascinating. You'd best not attempt to devour it all in one sitting, though. It's likely to give you a case of literary indigestion if you're not accustomed to such a solid tome as this.
I recommend Medieval Tastes to those who appreciate fresh, natural ingredients, and simply good food. Through this book I have discovered the forgotten secret of hot buttered pasta, and it is fabulous!
Here's a peek at the Contents to pique your appetite…
Introduction: Invitation to the Voyage
Chapter i: Medieval near, Medieval Far
Chapter ii: Medieval cookbooks
Chapter iii: The Grammar of Foods
Chapter iv: The Times of Food
Chapter v: The Aroma of Civilization: Bread
Chapter vi: Hunger for Meat
Chapter vii: The Ambiguous Position of Fish
Chapter viii: From Milk to Cheeses
Chapter ix: Condiment/Fundament
Chapter x: The Bread Tree [Chestnut]
Chapter xi: The Flavor of Water
Chapter xii: The Civilization of Wine
Chapter xiii: Rich Food, Poor Food
Chapter xiv: Monastic Cooking
Chapter xv: The Pilgrim's Food
Chapter xvi: The Table as a Representation of the World
Chapter xvii: The Fork and the hands
Chapter xviii: The Taste of Knowledge
[And taking up the final quarter of the book] Notes; Bibliography; Index
View all my reviews
Nothing is worth more than today apron
by
AprylZA
Create unique
custom printed aprons
at zazzle.com
0087-French village in Winter Apron
by
AprylZA
Create a
photo apron
.