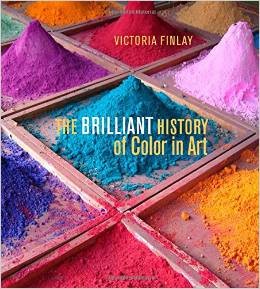 Can you guess how much I enjoyed reviewing this?

Packed with color and informative text, this is the book I wish I'd had 40 years ago:
The Brilliant History of Color in Art
Victoria Finlay
Los Angeles: The J. Paul Getty Museum, 2014
ISBN 978-1-60606-429-0
0070-les champs Provençaux T Shirts
by
AprylZA
Design your own
custom t shirts
at zazzle.com
Sunflower Field Vinyl Binders
by
AprylZA
Create a
ring binder
on Zazzle
Lavender Rows Coffee Mug
by
AprylZA
See more
Oil Mugs
0010-behind the sunflower print
by
AprylZA
Check out Prints &
Posters
online at Zazzle.com
the Poppy Field Postcard
by
AprylZA
Design your own
custom picture postcards
at zazzle.com
Poppy in the Wheat Field Magnets
by
AprylZA
Look at Impressionist Magnets online at
Zazzle.com
The Brilliant History of Color in Art
by
Victoria Finlay
My rating:
5 of 5 stars
It's pointless for me to attempt words for the visual masterpiece that I see in this book. The photos are excellent, sure, but not difficult to find through a bit of Internet research. Combine these illustrations with the layout and text, flowing in a chronological stream throughout the technological developments of mankind in history as portrayed through artistic works, and I MUST HAVE THIS IN MY LIBRARY!!! Better yet, I'd like to see it in every school and public library, and watch what happens in those communities.
Although it appears to be intended for the YA market, I know that 6-year old me would've spent a lot of time in these pages; likewise, this aging art school wannabe. The language may be simple, yet the thoughts are universal, sometimes philosophical, and occasionally profound.
For instance, we're reminded in the first segment of the first chapter, deep inside of the caves of Lascaux, "And this is another element of the history of colors in art: they are there, and then they go. They do not stay the same, and when you look at a painting, you're also, in a tiny way, changing it."
There are unabashed statements of the obvious; so important, and so often overlooked that I appreciate the reminder: "Today it's easy to bunch together ancient Rome, ancient Greece and ancient Egypt as all being rather, well, ancient. But for Theophrastos, ancient Egypt was almost as long ago, and just about as hard to imagine, as classical Greece is for us today. Egyptian blue was invented in about 2200 BC, when the Great Pyramids were built, so around 1900 years before Theophrastos was writing about it in Athens."
The informative text boxes pack a punch, too! "Red Ocher and Dying Stars?" Out of this world!
Reading about viewing early Renaissance gold-leafed painting by flickering candlelight made me woozy. Such divine decadence! I want that, too!
Please tell me, this mention of the "Turnsole," is this the common Provençal Tournesol or in Italian "Girasol", or the English "sunflower?" Here's a simple experiment waiting to happen. Does the pigment of modern sunflower oil change depending on what it's mixed with?
Talking of pigments in food, I was reminded of a birthday cake I made for schoolchildren in my daughter's class way back when. Rainbow cake was simple to make and a treat for the eyes; I divided the batter into 7 portions, added a few drops of food coloring brought from USA to each, and then marbled the batter. I couldn't believe that 5-year old children were frightened to eat this cake! Food is not supposed to be those colors—she must be trying to poison us! Maybe it's even more surprising that the French, so proud of their culinary savoir faire, have now taking a liking to cake decorating à la americaine. Are we witnessing a new movement in edible art—can colors be good to eat as well as see, smell, and touch?
In another multi-cultural moment, it's worth mention that before the advent of pre-mixed paints from the art supply shop, colorists would buy their pigments from the pharmacy—in Britain, still referred to as the chemist. Regrets from my frittered youth, I wish I'd paid attention in chemistry class. The prisms were fascinating, but I missed so much life-enhancing lessons on the chemical reactions of pigments and colors. Luckily for us, the great modern artists were applying their knowledge, and Finlay shows us how.
I appreciate the great irony of IKB (International Klein Blue) as an attempt to recreate the scarcity equal to Renaissance ultramarine and gold in a modern world where paint colors were no longer unique and priceless. This book serves to make the colors special despite our wealth of information. Surrounded by a world of color, we can increase our enjoyment and appreciation through developing our understanding.
The contents:
1) Earth and Fire
• Manganese Black: Art in the Ice Age
• Red Ocher: The Sacred and Dangerous in Australia
• Egyptian Blue: King Tut's Infrared Transmitter
• Greek White: The Myth of the White City
• Yellow Ochre: Apelles and Slime
2) Rocks, Minerals, Twigs, and Bugs
• Tyrian Purple: Cleopatra's Royal Color
• Cinnabar, Vermillion, and Minium: Beautiful but Deadly
• Black Ink: Who Needs Color Anyway?
• Gold: Medieval Radiance
• Green Earth: Unearthly Undertones
• The Age of Canvas: Painting on Sails
• Ultramarine: From the Valley of the Stone
• Cochineal: A New World Color in Art (and Your Lunch)
• Logwood Black: Puritans and Pirates
• Cobalt: Blue at the Scene of the Crime
• Lead White: The Enchantress
• Indigo: Girl Power in South Carolina
• Gainsborough Blue: Never Use Blue in the Center
• Rose: Madame Pompadour's Luxurious Pink
• Light: And the Age of Enlightenment
• Titian Blue: Simply Unbelievable
• Indian Yellow: Turner, Cows, and Mangoes
• Madder Red: Inventing the Color Wheel
• Graphite: Pencil Lead is Not Lead
• Mummy Brown: Funeral for Pharaohs
3) Modern Colors
• Mauve: Chemistry Project Gone Wrong
• Prussian Blue: The Blue That was Supposed to be Red
• Emerald Green: The Mystery of the Poisonous Wallpaper
• Black and White and Sepia: What You Can't See in Photographs
• Manganese Violet: Monet Goes Outside
• Chrome Yellow: Color from Siberia
• Patent Blue, Tartrazine, and Rose Bengal: Mix with Potatoes for Delicious Color
• Cadmium Yellow: Listening to Colors with Kandinsky
• Lithol Red: Endless Journey of the Eye
• International Klein Blue: This Is Not Your Blue
• Orange 36 and Violet 19: Lichtenstein and the Rise of the Superheroes
• Painting with Light: Pixels as Pigment
Illustration List, Index, and Acknowledgments.
Discussion questions for reading groups and classrooms and other resources are available at <
www.getty.edu/publications
>
<
http://victoriafinlay.com
>
Victoria Finlay studied Social Anthropology at St Andrews University, Scotland and William & Mary College, Virginia, after a stay in India. Her first job was in management with Reuters, which induced her to study journalism at the London College of Printing. That led to an impromptu transition into an internship with the South China Morning Post, during the Handover of Hong Kong. The next 12 years were spent writing for The Hong Kong Standard, RTHK (briefly) and finally The South China Morning Post, as news reporter, then arts editor.
She left to write a book about dyes and pigments, "a subject that had interested me ever since I had heard that we could no longer make the beautiful blue glass of Chartres Cathedral" [Me, too!] that was published two years later as Colour, Travels through the Paintbox in 2002. Jewels: A Secret History followed in 2004. Since returning to the UK and marrying (the two were connected [as they often are]), she works on charitable ARC development programs with her husband. Currently she is writing fiction, with her first published short story was published in a book called The Stories of the Stranger in April 2014.
View all my reviews