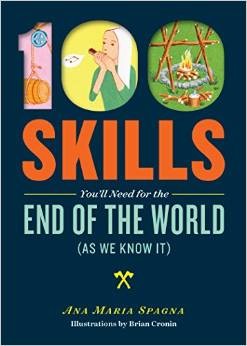 You can find out in:

100 Skills for the End of the World as We Know It.
Ana Maria Spagna, playfully Illustrated by Brian Cronin
Storey Publishing
It's another netgalley review, and I'm pretty proud of myself for persisting as a Low-Tech woman in a High-Tech world, although I will miss the gigantic library that is the Internet as we know it. What will you miss and what will you be glad to see consigned to the flames? What skills do you need to survive?
100 Skills for the End of the World as We Know It
by
Ana Maria Spagna
My rating:
3 of 5 stars
Admittedly, I'm pretty helpless when it comes to filing taxes and organizing crowd control, but when it comes to the end of the world, you'll want me on your team. My Girl Scout badges are going to be portable advertising if you're looking for baskets or shelter, right?
With an intro called Future Tense, we have whispers of a post-apocalyptic world. Ms. Spagna writes, "In my first class as a high school freshman, I entered the room to find every inch of every blackboard covered with numbers…. The teacher, a biblical scholar…explained that these were all dates on which someone, likely a prophet, had predicted that the world would end." My question: WHAT WAS THE CLASS?!! And that snarly little voice in my head teased, "Only in America, right?" It's only implied here, but clear enough to echo in my mind, is that industrial education does not prepare us for an unpredictable future. I was born in the atomic age, full of promise for life beyond the final frontier, yet the world leaders with their fingers forever on The Trigger.
"The most important skills may be those that require us to rethink the familiar, to adopt a new perspective." I have a strong sense that Ms. Spagna had an energetic brainstorming session with her friends, and her list invites me to do the same. We can keep score of how many accomplishments we're capable and call it the Post-Apocalyptic-Usefulness-Quotient.
I can appreciate that she respects hoarding. Seriously, you never know what you'll need in the next housing assignment. Is the power 110 or 220, if we have any electricity at all? Why toss out the vacuum cleaner if you'll need it on your return? What if books in English aren't available when amazon … gasp! Back to the Dark Ages! "In the future not reducing might be the key to recycling and reusing." Maybe it's not yet time to repurpose my library of Scouting (The Scouts are awesome when it comes to the essentials), Grandpa's copy of How To Do Things, the Foxfire books, 1930s hobby books, and Richard W. Langer's Grow It!.
It was rather disappointing to see only one page per skill. There was really not much useful information or guidance in these pages. Rather, this is the book for when you and your friends and family are unexpectedly snowed-in at your mountain cabin…with no electricity or running water and without satellite connection. Did anyone remember to bring the banjo?
View all my reviews
French Wine Corkboard Jigsaw Puzzle
by
AprylZA
Shop for another
jigsaw puzzle
Still Life with Jug & Blue Cloth Notebook
by
AprylZA
Make
personalized journals
online at Zazzle