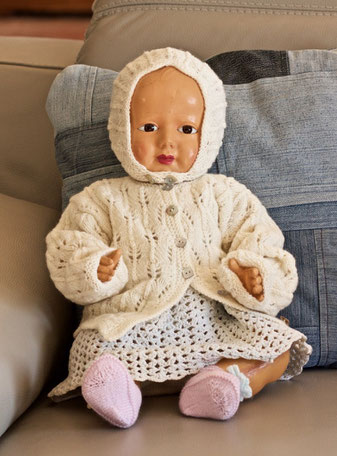 I'm reviewing a copy of Judith Durant's One Skein Wonders for Babies: 101 Knitting Projects for Infants and Toddlers in return for a fair and honest review on netgalley.com.
My model today is Irene, a prized possession of our dear Lidie. She didn't get to see her father very often when she was small, and had to deny to anyone that he even existed. On one of the rare episodes when he was home for a visit, he had to slip away on the night before her 7th birthday. This was the doll that he left with her while she slept. I can't imagine how difficult it must've been for the courageous people of the Dutch resistance during WWII. One example was that Lidie was interrogated by the Nazi occupiers a few months after as to why her mother was suddenly pregnant with no man about the house!
But back to One Skein Wonders for Babies, this is a lovely collection to enrobe baby from head to toe: Judith Durant has once again assembled a wide variety of patterns from a selection of excellent designers, this time in mini size. Because many are quick to knit, I present a few with my comments: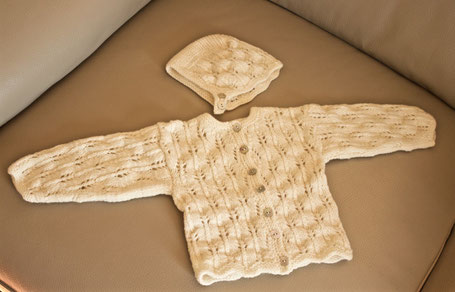 Trellis Lace Sweater and Hat designed by Uyvonne Bigham. I used Filatrua di Crosa's "Zarina" 100% Merino Superwash, 50 g (1,75 oz.)/165 m (180 yds.), Color 1396 Cream.
            Despite the intricacy of the lace, it was quite easy to knit.
            One thing I noticed— and perhaps someone caught this before it went to press—there was not mention of a neckband, although the photo shows one. I chose the most straightforward solution With smaller needle and RS facing, puk sts around neck edge. Beginning with a WS row, work 5 rows garter stitch. BO.
            I got a little rambunctious with the cap, by working short rows across the garter stitch section rather than binding off and sewing to finish.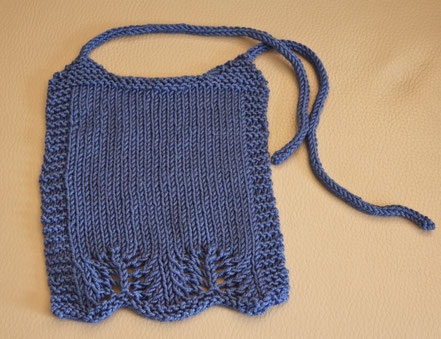 Faith Schmidt's Lace-Edged Baby Bibs are super! This may become my Go To gift for baby showers. I used La Lana del Cigno Nero "Punto" 100% New Wool (50 g = 125 m).
I realize that I goofed on the 'Feather & Fan'. I should have only worked the lower portion in lace—repeating the 4 row pattern only 3 times, instead of the entire section. Oh well, this isn't the spaghetti super bib then. It'll be perfect for teething time, I'm sure. Wool is perfect for collecting the dribbles without feeling soaked.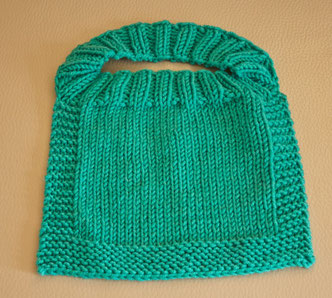 For utilitarian purpose bibs (spaghetti and such), The Perfect Baby Bib designed by Debbie Haymark of iPurl really is—no false advertising here! It's quick and easy to knit, and no messing with ties or Velcro closures. For this one I used Filatura di Crosa "Zara Plus" 100% lana extra fine merino superwash (50 g = 70 m).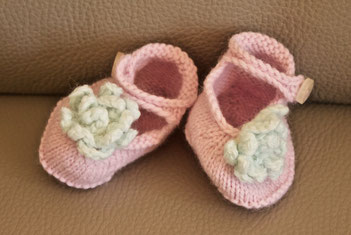 There's a nice assortment of booties and socks. Debbie Haymark's "Lizzy Janes" are adorable. Mine are in Phildar "Partner Baby" 50% polyamide/25% laine peignée/25% acrylic, 192 m/50 g, Color 02 Eglantine. I personally don't care for this yarn, but this much synthetic fiber makes for easy care.  
Andrea Wong's "Easy Baby Booties" really are! (I also worked these in Phildar "Partner Baby".) These are a great take-along project, too. One skein is enough for quite a few pairs.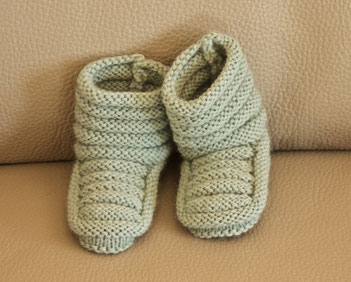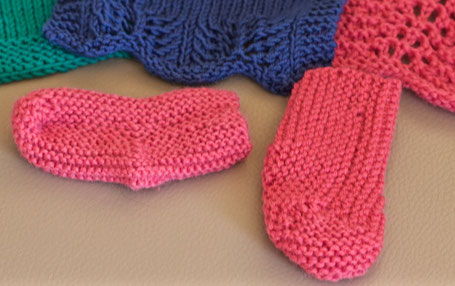 Andrea Wong also submitted a pattern for "Sideways Baby Socks". These are an excellent construction, but I found the directions to be a bit misleading without an indication of which rows are right or wrong side.
(The photo shows my goof sock on the right.)
Know that Odd-numbered rows are Right side, Even-numbered rows are the Wrong side, and the marked stitches are on the same placement as the m1s. When you divide the stitches for finishing, the increases should line up exactly with the decreases.

Another curiosity: I might've balked at an all-purl garter stitch had I not joined Ms. Wong's excellent Portuguese Knitting class on Craftsy.com. If you enjoy purling, these little socks are pure pleasure. For me, it was a perfect opportunity to practice this interesting method of holding the yarn. (But if by chance you are completely opposed to purl for whatever reason, any knit-stitch fidelity or whatnot, simply convert all purl stitches to knit and no one will be the wiser.)
The Montana Moccasins designed by Ann Faith are quick and comfy. (I may size these up to a 35 for myself at some point.) La Lana del Cigno Nero "Shop" 100% pure new wool, 145 yds. (132 m)/3,5 oz. (100 g) Color N1677 is a warm and cozy, bulky yarn. A bit of native American beadwork on the flaps could take these to the next level. They were simple to work but required enough attention not to miscount the shaping rows.    [Photo forthcoming]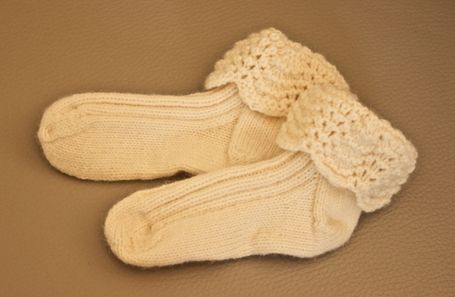 Terry Liann Morris, The Sailing Knitter, designed "Lacy Cuff Baby Socks", and they are quite lovely. Maybe you don't want these to be your first-ever sock project—the fine yarn and needles are a bit fiddly—but the directions are clear and concise. If you've got someone at hand to help you understand the shaping, it may be all the confidence you need for success. Mine are in Phildar "Partner Baby" 50% polyamide/25% laine peignée/25% acrylic, 192 m/50 g, Color 16 Poussin.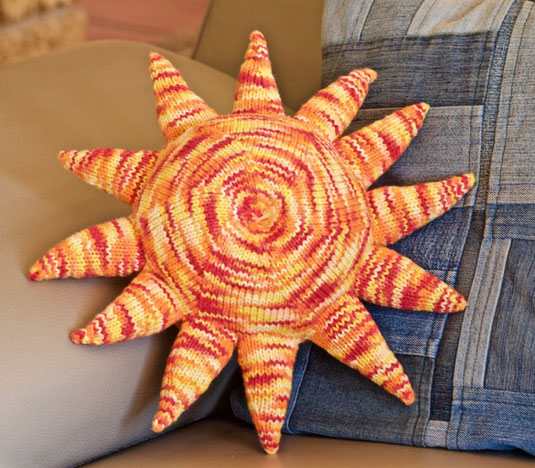 This book also includes a chapter of several cute and practical non-clothing items. When I find the time, I'd love to work up Gwen Steege's "Colorful Carriage Blanket". The ombré colors are really gorgeous!
Instead, I made Judith Durant's "Sunshine" in 3 balls of Fil à Tricoter ‹‹Colorado›› 100% cotton, 85 m/50 g, Color 9032—single-stranded, not doubled. It's resting on my couch, and never fails to produce a smile on anyone in the vicinity. One thing I would change is that, because this is an ombré yarn, the m1 increases are a bit too noticeable. In order to avoid the visual 'bar', a better increase would be to k1-k1 in row below as a lifted increase. I could also be tempted to vary the rate of increases to create a gentler form: begin at the center with increases every row and then taper the increases every several of rows.    
If you're looking for a well-rounded, all encompassing collection of patterns for baby, I highly recommend Judith Durant's One Skein Wonders for Babies: 101 Projects for Infants and Toddlers. Not only will you have an assortment of shower gifts, you'll have an opportunity to practice a wide variety of knitting skills in small size at ferocious speed—you can go from a knitting 'infant' to standing on your own two needles after working through this book!
Oh, and I nearly forgot to mention that the models are absolutely adorable! Serious kudos to the skilled photographer, and ;0) to all you proud parents.