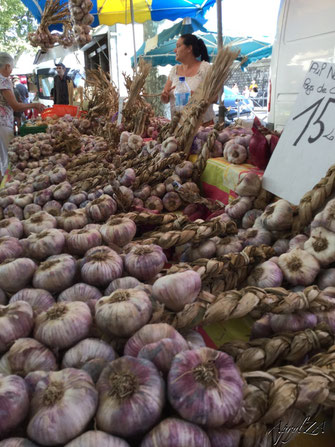 Much, much market! I'm not a big fan of shopping, but there's more than enough to keep the senses occupied on Arles' street market: Sights, sounds, scents, and beaucoup to inspire the artist and other sightseers.
Followed by lunch at le Jardin des Arts--too hot for gnocchi, but a fabulous meal nonetheless. I look forward to returning in less melty weather... Or if this heat continues, a salad will certainly please.
For the heat of the afternoon, les Cryptoportiques--the Roman market of 1 B.C.E. were fascinating and refreshingly 15°C. We also hung out in la Médiathèque (the public library) for air-conditioned comfort. It's located in the historic hospital (Van Gogh was interred here), which has been impressively renovated to include both ruins and modern architecture.
Of course, artists must make the most of French café culture, and so we did.
The entire day of sights and wonders passed before I realized that, for once, I didn't go into the Roman theater or arena! There is so much to see in this town! (Hint: Check out the Hôtel Nord Pinus on Place du Forum for outstanding retro charm and surprising history on their walls! Who'da thought?!!)